River Builder
Download
Download River Builder for free at https://cran.r-project.org/package=RiverBuilder
Introduction
Welcome to the website devoted to River Builder- the world's first open-source procedural software for creating river terrains exactly to specification. The software includes valley scale, reach scale, and subreach scale capabilities.
Designing alluvial river channels that behave naturally is a central challenge facing river scientists and engineers as well as animators and video game developers in the 21st century. Though organized and responsive to driving forces, rivers exhibit complex patterns and processes from the scale of an individual grain of sediment to that of an entire continent. Despite roughly a century of research it remains highly uncertain as to which patterns and processes are most important to design explicitly versus which ones should be allowed to emerge on their own after construction. Nevertheless, our understanding of the fluvial patterns and processes as well as our ability to quantify them is increasing rapidly. We can now design much more dynamic rivers than ever before.
Vanilla Rivers
A synthetic river designed only according to reach-scale metrics of central tendency is called a "Vanilla River". Although vanilla can be a delicious flavor, it is colloquially considered bland or generic, generally lacking in desirably variations and complexity. This is apropos, because in fact few river processes are driven by the central tendency of reach-scale river metrics. Instead, they are driven by local to reach scale patterns of topographic variability. Thus, few natural rivers look like synthetic Vanilla Rivers and we must turn to a more sophisticated understanding of topographic complexity to design rivers that reflect their natural patterning.
This software is capable of designing Vanilla Rivers, if that is desired. For use in real rivers, we do not recommend stopping there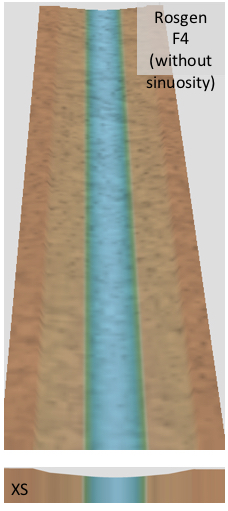 Building Variability in Digital Rivers
Brown and Pasternack (2014) coined the term "Geomorphic Covariance Structure" (GCS) to mean the bivariate pattern of any two river variables along a pathway. It is not the statistical covariance, which is a single number, but instead a new concept involving the complete bivariate spatial series from which a statistical covariance could be computed if desired. The theory of Geomorphic Covariance Structures (GCSs) is not only useful for assessing the layers of topographic patterning of real rivers (Brown and Pasternack, 2014, 2017) but also for the design of synthetic rivers with more natural landforms that drive the real diversity of physical processes (Brown et al., 2014, 2015).
This software is capable of implementing GCSs to produce rivers with organized, coherent patterns of variability. This is where the real power of this software lies. However, the software does not tell you what GCSs you need to produce different outcomes. You must have in mind what you want and an understanding of what GCS metrics are required to achieve that vision.
River Builder Example Gallery
The images below show a variety of simple channels and river valleys made with just a few minutes of effort in River Builder. The hard part is knowing what you want to create, but once you've got that then River Builder makes it exactly as you specify.
Simple Meandering
This first example shows a simple meandering channel with undulating riffle-pool relief and natural out-of-phase width variation locked to that. Also, the cross-section is asymmetric and adjusts down-river according to channel curvature. The floodplain is flat to keep the focus on the channel design. This is classic meandering and it is made so easily in River Builder compared to trying to create this in CAD or GIS.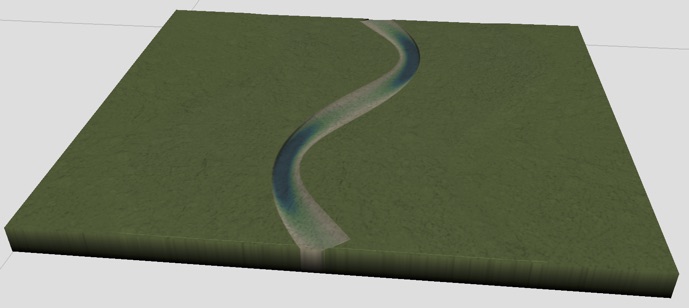 Nested GCSs at 2 Scales
This next example is from a journal article we published. Looking at the blue area of each image, there is a baseflow channel with linked bed elevation and width oscillations. That is then nested inside a bankfull channel that also has linked bed and width oscilaltions, but not necessary the same linkage as for the baseflow channel. These examples show that a simple design tool like a basic GCS can yield remarkably complex and intellectually challenghing rivers; and this is only considering one GCS at two spatial scales. River Builder can do that for several variables simultaneously.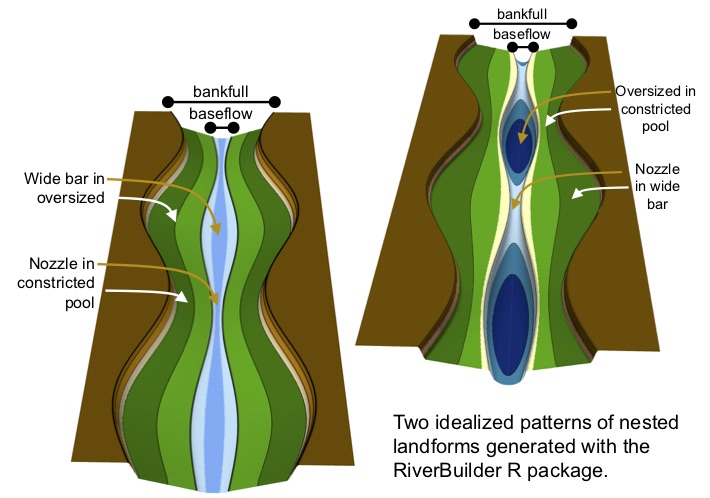 Perlin Channel Alignment
This could be a lowland partially confined 1st to 3rd order stream or a thread in a multi-threaded high elevation mountian meadow.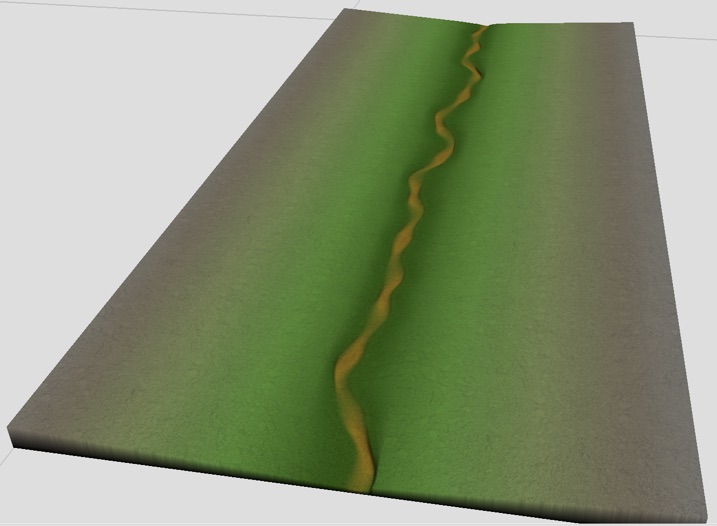 Slot Canyon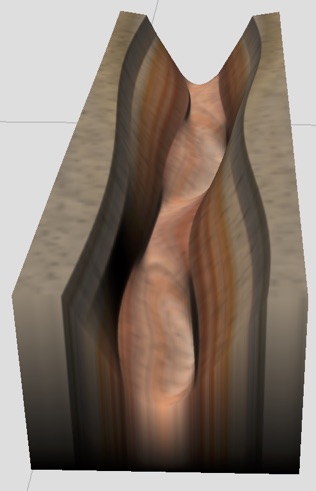 S5 Example Tweaked
This example takes the S5 parameters form our first article and tweaks them for visual presentation. I used ArcScene to make the final appearance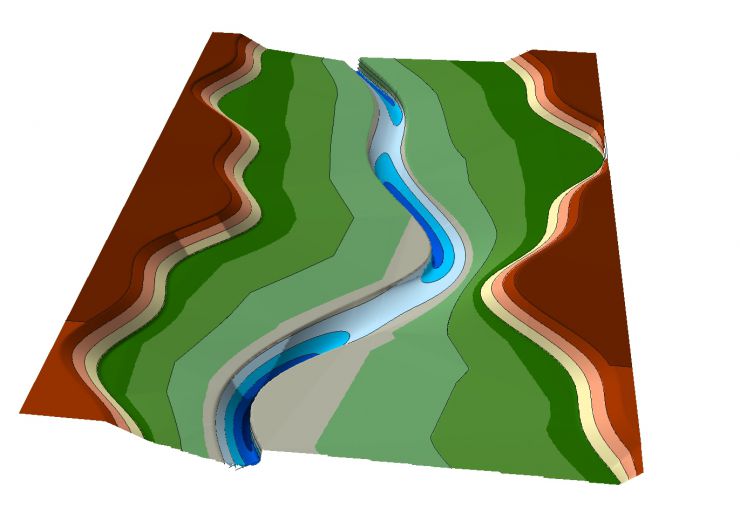 Partially Confined Canyon
This exmaple places a channel with multiple layers of variation into a partially confined canyon whose banks and hillsides also have multiple layers of variation.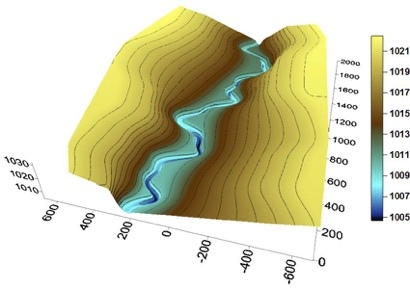 References
To learn more about the scientific underpinnings of River Builder, refer to the literature cited below.
General Concepts
Brown, R. A. and Pasternack, G. B. 2019. How to build a digital river. Earth-Science Reviews 194: 283-305. DOI: 10.1016/j.earscirev.2019.04.028.
Brown, R. A., Pasternack, G. B., Wallender, W. W. 2014. Synthetic river valleys: creating prescribed topography for form-process inquiry and river rehabilitation design. Geomorphology 214: 40-55. 10.1016/j.geomorph.2014.02.025.
Designing with GCS's
Brown, R. A., Pasternack, G. B., Lin, T. 2015. The topographic design of river channels for form-process linkages for river restoration. Environmental Management, 57 (4): 929-942. doi: 10.1007/s00267-015-0648-0.
Brown, R. A., Pasternack, G. B. 2017. Bed and width oscillations form coherent patterns in a partially confined, regulated gravel–cobble-bedded river adjusting to anthropogenic disturbances, Earth Surface Dynamics, 5, 1-20, doi:10.5194/esurf-5-1-2017.
Pasternack, G. B., Baig, D., Webber, M., Brown, R. 2018. Hierarchically nested river landform sequences. Part 1: Theory. Earth Surface Processes and Landforms. DOI: 10.1002/esp.4411.
Pasternack, G. B., Baig, D., Webber, M., Brown, R. 2018. Hierarchically nested river landform sequences. Part 2: Bankfull channel morphodynamics governed by valley nesting structure. Earth Surface Processes and Landforms. DOI: 10.1002/esp.4410.
Future Developments
River Builder is off to a good start, but we recognize that it is still fairly rudimentary compared to its potential. Thus far, much of software development has been done with no formal grant sponsorship, though some funds have come on the periphery of various funded projects that use River Builder and with university funds or private donations. Nevertheless, we are moving forward as we can. We have a long list of features to add.