Tidal Freshwater Deltas

Participants
Gregory B. Pasternack, Grace S. Brush, William B. Hilgartner, Linda A. Hinnov, Megan A. Knight, and numerous volunteers
Background
A tidal freshwater delta is a sedimentary deposit formed at the boundary between an upland stream and an estuary. The origin of a tidal freshwater delta involves processes that are typical of all deltas as well as processes that are unique to the tidal freshwater setting. The combination of processes that create a tidal freshwater delta result in a distinct morphology and unique environmental characteristics. For more background information, see TFD Introduction.
Study Area
The research presented on this site about tidal freshwater deltas was conducted in the NOAA NERRS Chesapeake Bay, which includes two adjoining deltas- Otter Point Creek (OPC) and HaHa Branch Wetland (HBW). OPC is a 672 acre coastal forest and tidal freshwater delta that has formed where Winter's Run empties into the Bush River in Harford County, Maryland. OPC includes the Melvin G. Bosley Wildlife Conservancy and Leight Park. The wetlands within the Bosley Conservancy lie between the Route 40 bridge to the west and the Bush River to the east.

HBW and OPC Sampling Site Maps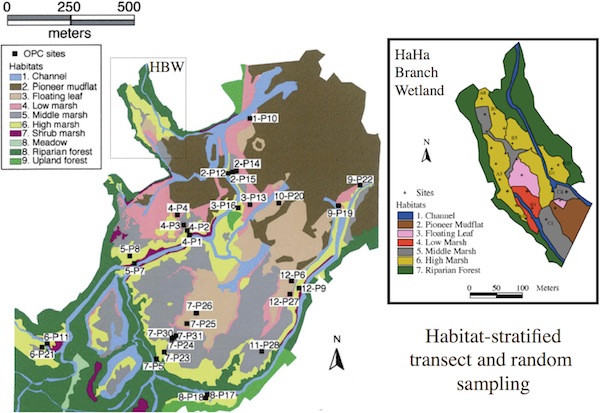 Management Impetus For Research
Riparian forest and tidal freshwater wetlands in OPC are cut by the deltaic distributary channels where Winter's Run ends in the Bush River. Two natural logjams- formed during Hurricane Agnes in 1972- plug distributary creeks in the supratidal woodlands upstream of the intertidal marsh and the channel distributaries. An impact study found that the logjams significantly influence the hydrology and geomorphology of the downstream area. In particular it was found that they dissipate hydraulic energy, store water and sediment, encourage bank erosion, redirect flows to different distributaries, and increase habitat diversity (Teitz, 1993). Extensive urbanization of the surrounding area has also influenced the wetland hydrology via channelization, sedimentation, storm water diversions to the creek, etc.
Purpose
The primary goal of my research was to investigate possible hydrogeomorphic processes that explain the observed differences so that anthropogenic impacts on tidal freshwater wetland stability and change is understood. Specific questions included the following:
What are the spatio-temporal dynamics of sediment accumulation on a tidal freshwater delta?
Which ecological and hydro meteorological processes drive sediment accumulation and on what time scales and by what mechanisms do these controlling processes function?
How do watersheds and tidal freshwater deltas interact over a range of time scales spanning bi-weekly to interdecadal?
---
Tidal Freshwater Delta Research Topics
---
---
Publications
Pasternack, G. B. and Brush, G. S. 1998. Sedimentation cycles in a river-mouth tidal freshwater marsh. Estuaries 21:3:407-415.
Pasternack, G. B., Hilgartner, W. B., and Brush, G.S. 2000. Biogeomorphology of an upper Chesapeake Bay river-mouth tidal freshwater marsh. Wetlands 20:3:520-537.
Knight, M. A. and Pasternack, G. B. 2000. Sources, input pathways, and distributions of Fe, Cu, and Zn in a Chesapeake Bay tidal freshwater marsh. Environmental Geology 39:12:1359-1371.
Pasternack, G. B., Brush, G. S., and Hilgartner, W. B. 2001. Impact of Historic Land-Use Change on Sediment Delivery to an Estuarine Delta. Earth Surface Processes and Landforms 26:409-427.
Pasternack, G. B. and Brush, G. S. 2001. Seasonal Variations in Sedimentation and Organic Content in Five Plant Associations on a Chesapeake Bay Tidal Freshwater Delta. Estuarine, Coastal, and Shelf Science 53:93-106.
Pasternack, G. B. 2001. Animal Response to River Evolution in the Tidal Freshwater Zone. In (J. M. Dorava, D. R. Montgomery, B. B. Palcsak, and F. A. Fitzpatrick, Eds) Geomorphic Processes and Riverine Habitat. American Geophysical Union, Water Science and Application Volume 4, p. 139-157.
Pasternack, G. B. and Brush, G. S. 2002. Biogeomorphic controls on sedimentation and substrate on a vegetated tidal freshwater delta in upper Chesapeake Bay. Geomorphology 43:293-311.
Pasternack, G. B. and Hinnov, L. A. 2003. Hydro meteorological controls on water level in a vegetated Chesapeake Bay tidal freshwater delta. Estuarine, Coastal, and Shelf Science 58:2:373-393.
Pasternack, G. B. 2009. Chapter 3- Hydrogeomorphology and sedimentation in tidal freshwater wetlands. In (A. Barendregt, A. Baldwin, P. Meire, D. Whigham, Eds) Tidal Freshwater Wetlands. Backhuys Publishers.