Course Logistics
How Much Work is a 3 Unit Course?
According to the UC Davis General Catalog (see this link), units of credit are assigned to courses based on 1 unit of credit for three hours of work by the student per week. Usually this means one hour of lecture or discussion led by the instructor and two hours of outside preparation by the student. In the case of SAS004, the course is 3 units.
Unit 1: Each week you will screen a movie that is 1.5-3 hours long, and then you will complete a movie log assignment to engage in critical thinking on the links among water, societal institutions, and popular culture. This pairing fully consumes 1 unit.
Unit 2: Each week there is a 50-minute discussion section. Associated with that is a shared reading everydone done plus a reading for your assigned stakeholder group. You also have preparation time to get read to advocate for your stakeholder perspective during the discussion period. The length of the readings, mindful of time for taking notes and preparing for discussion is designed to consume up to 2 hours of your time outside of class in preparation for discussion.
Unit 3: Each week there is an online video podcast lecture for you to watch at your pace. Associated with these you will do two writing assignments and take a final exam. There are 10 interactive lectures, so that means you have 20 hours designated to complete these three assignments. Depending on your productivity and efficiency, it might take you more or less time than this to complete the work.
Weekly Cycle: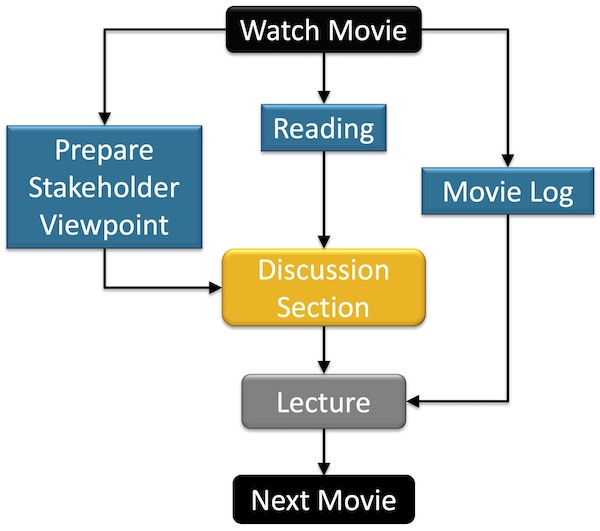 Depending on the day of the week the quarter begins for your year, the outset is a little different. No matter what, we begin with a course introduction that takes place BEFORE the first film screening.
If the first class meeting is a Monday, then the course begins with an introduction during the first discussion section, so be sure to go to that.
If the first class meeting is a Wednesday, then there will be a ~20-minute logistical course introduction and then we will roll into the first film screening.
Either way, in the first Wednesday class, the first movie, Chinatown, will be screened. Students work on their Movie Log assignment during the movie and in the following week. Students should read the assigned documents for their discussion section and prepare to advocate for their stakeholder position. At the next discussion section, students will engage in one-on-one and group discussion about the topic for the week. Movie logs are due at the beginning of the next Wednesday class. Finally, the professor wraps up the topic by either giving a lecture or assigning a video podcast about the previous week's topic. Most students prefer the video podcasts, because they can be any time and referred to in the future when preparing for the final exam. Then it is on the next screening and the cycle repeats itself.
Movie Screening:
Weekly movie screenings are held in-person from 5:10-8:00 pm Wednesdays throughout fall quarter in the designated classroom for the course. If you have to miss a screening, there are alternative ways you can screen the movie on your own, which you are expected to do.
UC Davis subscribes to the SWANK film service that provides free access to a lot of films, including some (but not all) of those in this course. Movies come and go from the servcie, so it is not possible to keep up with what they have at any moment; please search their servcie to see fi the one you need to view is available.
Several of the films are on streaming services. There are websites and apps such as JustWatch and ReelGood that search multiple services to find a particular film. Then you can determine if you subscribe to that service or if you wish to pay a fee to rent or buy each film.
Commercial vendors such as Amazon and Apple sell digital and/or DVD versions of the films that you can rent or buy.
Weekly Video Podcasts:
Prof. Pasternack has produced pre-recorded video podcasts involving Powerpoint presentations with a picture-in-picture overlay of himself. In anonymous surveys prior to the pandemic, students were about split in their preference for live lecturs versus pre-recorded videos, with an edge in favor of video podcasts. An energetic performance in-person is usually more exciting than a lecture video produced by a professor, but professors cannot memorize all details in rote and do not always perform at their best every time. Further, if a student misses a lecture, misses an idea in a lecture, or wishes to hear the lecture again, then they cannot do any of those things. Meanwhile, the video podcast is always available to the student and will always have the freshest and most thorough content, because it was recorded when the material was right at the front of the professor's mind. Since the pandemic, there is a greater acceptance of the value and utility of video podcast lectures, especially when lectures were never particularly interactive.
To insure students have high-quality versions of the lecture slides, a PDF file of the slides is available in the Files section of Canvas.
The material on the slides is covered on the final exam, so you do want to have the ability to take notes to supplement your understanding of the slides as you see fit.
Canvas Resources:
This courses uses the UC Davis Canvas tool to provide you with many features, including announcements, email communication, and all of the proprietary course materials. On Canvas, go to the Files folder to find readings, lecture slides and other course content. Please try to keep space available in your email inbox to make sure you do not miss any important course announcements. Check the Canvas page weekly as well.
Textbook:
There is no textbook for this course, but there are a variety of readings drawn from different sources. A complete list of the readings with guidance on how to obtain each reading and when to read them can be found on the SAS004 readings page.