Info for Applicants
Information For Prospective Students
Introduction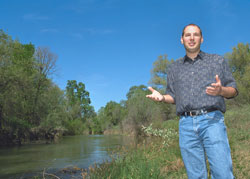 Welcome to my web page devoted to future generations! Most likely you are a highly motivated individual seeking a mentor to guide you on a career path in which you will use an interdisciplinary array of tools to help better understand and protect the Environment, with a focus on water resources. You realize that while political action and community involvement are useful for raising awareness about environmental problems, your strengths and interests suggest that you could help more by learning and then applying state-of-the-art science and technology to solve tangible problems.
Research Areas
As you can see from the research projects described on my web page, I have worked on a wide array of environmental problems in the past, ranging from the effects of acid-brine lake seepage on rural Indonesian communities to the design of river restoration projects in California. I have also worked hard to learn the disciplines of earth surface processes, civil engineering, hydrology, and ecology so that each environmental problem I examine can be addressed from an integrated perspective engaging all of these important fields. I believe my publication record illustrates my success as an interdisciplinarian, but I still have much to learn.
The research my students and I are conducting looks into the intertwinig of physical processes and ecological functions, primarily in rivers, and this insight is used to inform river management and engineering. We do this using mechanistic approach that involves going deep into the details of how nature works, without fear of "complexity". i do not agree that simple is better, because simplicity of human understanding is what has been collapsing the Earth's ecosystem. Thus, we work within a new paradigm that I call "near-census river science". I wrote a textbook in summer 2011 to teach my ideas broadly to people (see this link). I also made video podcast lectures to go with the textbook to make a nearly self-guided class on this topic. To bring our best scientific ideas into practical usage, my group is building out workflows and software, so that our developments can serve beyond our own projects and into the future.
My students are working on individual topics related to this overall agenda. You can see what each student is doing by viewing the MS and PhD student pages of this website.
I have substantial funding to address some or all of these questions on an on-going basis.
Your Educational Course Work
To earn an advanced degree from UC Davis with me you need to either apply to the Hydrologic Science Graduate Group, the Ecology Graduate Group, or the Computer Science Graduate Group. Each group has a very different curriculum. To give you a sense of what your course work would be like, here is some information on courses.
Typical Pre-requisites
Biology: 1-yr College sequence (equiv. to UCD courses BIO 1A,B,C)
Chemistry: 1-yr College sequence (equiv. to UCD courses CHE 2A,B,C)
Physics: 1-yr College sequence (equiv. to UCD courses PHY 9A,B)
Math: 1-yr of calculus; linear algebra, ordinary differential equations, multi-variate calculus (equiv. to UCD courses MAT 21A,B,C,D; 22A,B)
Statistics: 1 class (equiv. to UCD course ECI114)
Computer Science: 1 class in any programming language
Geology: 1 class in introductory geology
Typical Core courses taken here
Additional courses that I consider to be prep, but count toward your graduate degree:
ECI103- Fluid mechanics (if studying physical processes)
ECI141- Engineering hydraulics (if studying physical processes)
HYD134- Aqueous geochemistry
HYD151- Field methods in hydrology
Core courses:
HYD200- Hydrology seminar
HYD252- Hillslope geomorphology and sediment budgets
HYD254- Ecohydraulics
HYD273- Introduction to geostatistics
HYD299- Independent research
ECI260- Sediment transport (unavailable at this time)
ECI267- Water Resource Management
ECI276- Watershed hydrology (advanced theory)
General Electives:
Electives depend on the nature of a research project and the individual interests of a student. Listed below are examples of courses that have been taken by my students in the past.
HYD143- Hydrological processes in ecosystems
HYD142- Systems hydrology
HYD256- Geomorphology of estuaries and deltas
ESP155- Wetland ecology
WFC120- Biology and conservation of fishes
ECI10- Introduction to surveying
ECI121- Instrumentation, data visualization, and control
ECI240- Water quality
ECI264A- Transport processes in rivers and lakes
ECI264B- Transport processes in wetlands and estuaries
ECI275- Hydrology time series analysis
ECI277- Unsteady flow in surface waters
ATM115- Hydroclimatology
GEO206- Stratigraphic analysis
GEO148- Stable isotopes and geochemical tracers
GEO227- Stable isotope biogeochemistry
Advanced Electives for Ph.D. students:
The highest level of student achievement requires the highest level of basic understanding of nature. These additional courses are useful for those seeking to understand moving water.
ECH150A,B- Advanced fluid mechanics
HYD205- Continuum mechanics
MAE210A,B- Advanced fluid mechanics
MAE213- Advanced turbluence modeling
Final Thoughts
Graduate study in my group at UC Davis is a challenging yet rewarding enterprise. Each student project has real ramifications for the Environment, so your work will truly matter. In exchange for providing you with a highly progressive educational experience, I expect a commitment to hard work and desire for excellence.
I look forward to hearing from you by e-mail with any questions and learning about your individual interests.
Warmly,
Greg