Course Logistics
How Much Work is a 3 Unit Course?
According to the UC Davis General Catalog (see this link), units of credit are assigned to courses based on 1 unit of credit for three hours of work by the student per week. Usually this means one hour of lecture or discussion led by the instructor and two hours of outside preparation by the student. In the case of SAS004, the course is 3 units.
Unit 1: Each week we screen a movie that is 1.5-3 hours long plus a movie log assignment, so we treat that pairing as fully consuming 1 unit.
Unit 2: Each week there is a 50-minute discussion section and associated with that is a reading or set of readings as well as preparation time to get read to advocate for your stakeholder perspective during the discussion period. The length of the readings is designed to consume up to 2 hours of your time outside of class in preparation for discussion.
Unit 3: Each week there either a 50-minute lecture or an online video podcast lecture available on this website or from the UC Davis videos website. Associated with this are two writing assignments and a final exam. There are 10 interactive lectures, so that means you have 20 hours designated to complete these three assignments. Depending on your productivity and efficiency, it might take you more or less time than this to complete the work.
Weekly Cycle: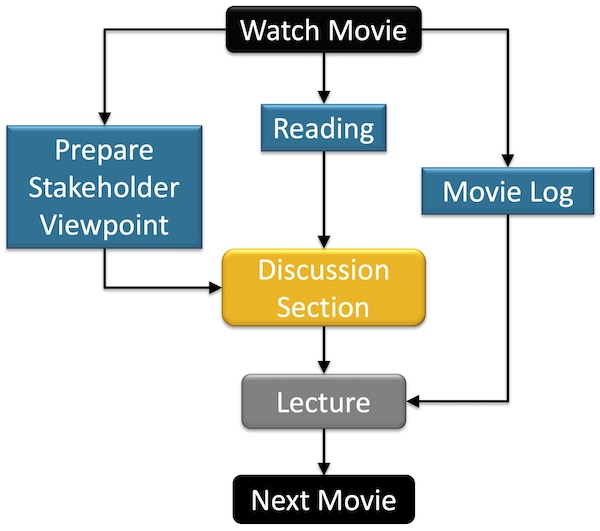 The course begins with an introduction during the first discussion section, so be sure to go to that. On the first Wednesday class, there will be a 50-minute presentation by the professor to further introduce the class. Then the first movie, Chinatown, will be screened. Students work on their Movie Log assignment during the movie and in the following week. Students should read the assigned documents for their discussion section and prepare to advocate for their stakeholder position. At the next discussion section, students will engage in one-on-one and group discussion about the topic for the week. Movie logs are due at the beginning of the next Wednesday class. Finally, the professor wraps up the topic by either giving a lecture or assigning a video podcast about the previous week's topic. Most students prefer the video podcasts, because they can be any time and referred to in the future when preparing for the final exam. Then it is on the next screening and the cycle repeats itself.
Weekly Lectures and Video Podcasts:
Prof. Pasternack gives presentations using MS Powerpoint with a lot of color imagery, either as in-person lecture or as pre-recorded video podcasts. In anonymous surveys, students have been about split between which mode of delivery they prefer, with an edge in favor of video podcasts. An energetic performance in-person is usually more exciting than a lecture video produced by a professor, but professors cannot memorize all details in rote and do not always perform at their best every time. Further, if a student misses a lecture, misses an idea in a lecture, or wishes to hear the lecture again, then they cannot do any of those things. Meanwhile, the video podcast is always available to the student and will always have the freshest and most thorough content, because it was recorded when the material was right at the front of the professor's mind.
To insure students have high-quality versions of the lecture slides, a PDF file of the slides is available in the Files section of Canvas.
The material on the slides is covered on the final exam, so you do want to have the ability to take notes to supplement your understanding of the slides as you see fit.
Canvas Resources:
This courses uses the UC Davis Canvas tool to provide you with many features, including announcements, email communication, and all of the proprietary course materials. On Canvas, go to the Files folder to find readings, lecture slides and other course content. Please try to keep space available in your email inbox to make sure you do not miss any important course announcements. Check the Canvas page weekly as well.
Textbook:
There is no textbook for this course, but there are a variety of readings drawn from different sources. A complete list of the readings with guidance on how to obtain each reading and when to read them can be found on the SAS004 readings page.
Did you Miss a Movie Screening?
All UCD students are eligible for a free Amazon Prime account, which provides you with a free streaming movie service. Many of the movies in this course are available on that service, so you can access those freely. All of the movies are available from the commercial service Netflix (some by streaming and some by DVD), if you subscribe to that. One set of all movie DVDs is available for viewing at the Reserves desk in Shields Library. DVDs are available for use in the library for 2-3 hours. depending on the movie.